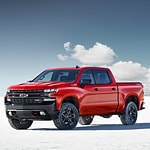 The Chevrolet Silverado 1500 is a powerful truck that has been on the market for over 15 years. The latest model of this truck features some design changes, including an option to get leather seating with heated and cooled seats. This blog post will talk about the new Chevy Silverado 1500 Design Features!
The first major design change that you'll notice with the new Chevy Silverado 1500 model is the front grille and headlights. This truck now has a more menacing design than its predecessor, and it looks like it means business! The integrated projector-beam headlight system gives the Silverado 1500 an aggressive look without sacrificing brightness or safety. If you decide to get the model with low beam LED headlamps, you'll enter a new realm of control. Not only do these lights help you see better in the dark, but they also make it easier for other drivers to see you at night!
The Chevy Silverado 1500 is built tough and ready for whatever outdoor activity or sports that you throw at it! Standard with the Silverado 1500 is a dual-port grille that helps cool the engine. If you decide to get the trail boss model, then you also get front and rear bumpers that are designed for off-roading.